Tech Industry Benefits Trends
Tech Industry Benefits Trends
July 21, 2022
As companies navigate the biggest workplace disruption in generations and the great resignation, we're seeing a shift in tech company benefit offerings to strengthen the workforce. The 2022 TAP Network Benefits Survey showcases top priorities and future trends for employee benefits plans in tech.
What's New and Noteworthy?
In the past two years benefits plans have expanded to address immediate concerns and are becoming more inclusive, with a focus on attracting and retaining talent for further growth. 67% have implemented a program or mental health strategy to address mental health concerns impacting the workplace and 57% are offering benefits coverage to temporary employees. Employers are seeking mental health training for their leaders that addresses the impact on the workplace and are investing in increased mental health coverage.
Another shift in tech company benefit plans is a move from wellness offerings as part of a standard Employee and Family Assistance Plan (EFAP) to a broader focus on wellbeing offerings that provide support for total physical, mental, financial, work and life health, as well as psychologically safe workplaces. A sustainable and inclusive employee benefits plan will support employees in feeling valued and enhance the opportunities available to grow professionally and personally.
Paid Time Off
The #ShowUsYourLeave movement has gained momentum. Leaves have evolved to increase flexibility and support attraction, engagement, and retention. Almost half of the 148 Canadian tech companies that participated in our 2022 benefits survey shut down between Christmas and New Year's. 9% of companies now provide paid sabbaticals, and 8% of provide unlimited PTO. Additionally, over half of the respondents top up pay 75%-100% for 12-17 weeks for maternity, paternity, parental and adoptive/surrogacy leaves.
Flexible and Emerging Benefits
While 17% of responding tech companies currently provide Health Spending Accounts (HSA) for added plan flexibility, 45% are considering implementing an HSA in the next two-years!
Retirement plans are evolving in the tech sector by becoming more inclusive, with shorter waiting periods, socially responsible funds, TFSA employer matching, simplified open enrolments and more. 32% of respondents plan to improve their Group Retirement Savings program.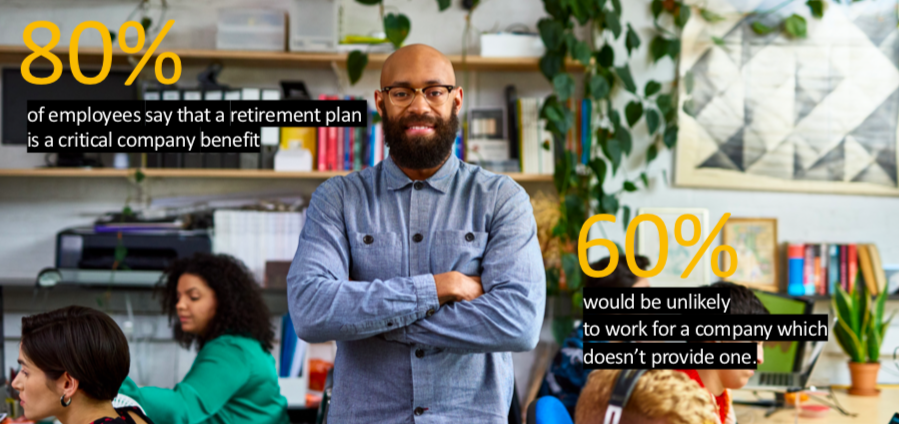 Image stat provided by HUB International.
Emerging benefits coverage being offered (more often in larger companies) include gender affirmation coverage and medical cannabis coverage.
Other planned improvements to plan design and flexibility will include wellness programs (34%), personal/wellness spending (33%), and paramedical practitioner coverage (28%).
On the Horizon
What are the priorities going forward for most tech companies? We heard loud and clear from survey participants that enhancing benefits plans to improve retention, mental health and employee engagement is a priority, with many companies also increasing leave flexibility. The top plan changes will continue to be mental health training, expansion of mental health practitioner coverage, and evolving retirement plans to be more inclusive.
--
TAP Network's 2022 Group Benefits Survey, represents data from 148 Canadian tech companies in 13 subsectors.
Want the details? The 2022 Group Benefits Survey is available for purchase. For more information click here.