The Cost of Tech Labour in Western Canada
The Cost of Tech Labour in Western Canada
October 08, 2021
Spoiler alert – it got a lot higher in 2021.
We recently released our 2021 Tech Salary Survey, with data from over 25,000 incumbents at 184 BC and Alberta tech companies and it came as no surprise to learn that tech sector salary increases blew past compensation budgets this year.
The sector is booming and recruitment pressure is at an all-time high. The average planned headcount growth this year for the 184 companies in our survey is 37%.
37%!
Meanwhile, large international companies like Microsoft, Amazon, Disney and Mastercard are continuing to build development offices and studios in Vancouver and in Alberta, both Calgary and Edmonton have seen staggering growth numbers in their tech sectors. According to a study by Alberta Enterprise Corporation, Alberta is now home to 3,083 tech companies. Three short years ago that number was 1,238. Alberta has also created a new business accelerator to help tech companies scale up by plugging into global investment money.
All of this recruitment and retention pressure is pushing salaries up, and quickly.
Common incumbents in our survey (employees in the same jobs in the same companies) saw a year over year median salary increase of 5.4%.
Pay for some jobs is particularly hot right now. Key technical positions in the survey saw average base salary increases of 6%-12%. Skills such as DevOps, Full Stack Software Development and Data Science were identified as some of the most difficult to recruit skills and showed up in the list of jobs with the fastest moving pay.
These positions had the fastest moving pay, with common incumbents seeing median base salary increases of 10% or more: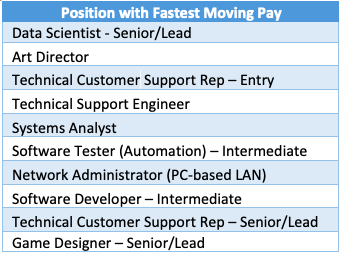 While Vancouver tech salaries reaching par with many North American tech hubs, there are still regional differences, and the Software Development position highlights those differences:
From our 2021 survey data, the average salary for an Intermediate Software Developer in the Vancouver area is $98,000. On Vancouver Island that average is $81,000 and in Alberta it's $84,000. We anticipate regional pay differentials will become smaller over the next couple of years with the normalization of remote and even global teams.
Many of our member companies are adjusting salaries twice this year, to keep pace with this market.
Stay informed and compete for tech talent with TAP Network's Tech Salary Survey.