Re-Branding – 30 Years of Building Community Together!
Re-Branding – 30 Years of Building Community Together!
February 28, 2022
In January 2022 we re-branded and have evolved in response to our growing community with a renewed vision and a name change from HR Tech Group to Tech and People (TAP) Network. Our board of directors, steering committee and TAP Network team collaborated for the re-branding, deciding on a name that would reflect the community and resonate most with our members. As a community of People and Culture professionals committed to driving the growth and success of Canada's tech sector, we are proud of what we've accomplished together. This year we will celebrate that evolution as 2022 marks our 30th anniversary as an association!
Start-up beginnings and continuous growth
How we got started? In 1992 a handful of senior HR practitioners were navigating the rapidly growing tech industry when they saw the need for peers to share data and compare practices, starting the Compensation Exchange Group. They soon began to recognize the importance of building a community to share progressive People and Culture practices, equipping members to have an impact on the success of their organization and contributing to the overall strength of the tech industry. Starting with 8 practitioners at 8 companies, today the community includes over 700 members at 225+ Canadian tech companies with access to tech sector data, mentors, resources, industry experts, learning and development, and an inclusive peer community.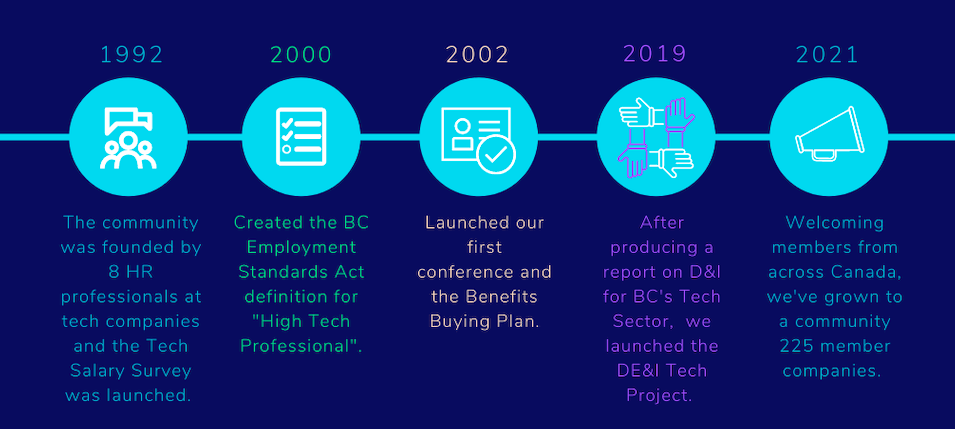 A few of our milestones over the years have included creating the BC Employment Standards Act definition for "High Tech Professional", launching the Tech Talent North conference and offering a Benefits Buying Plan for our members to increase sustainability of their company plans, as well as advocating for the industry to launch the Diversity & Inclusion (D&I) Tech Project. As the local tech ecosystem drives and is influenced by global change, we are equipped to expand nationally and leverage the collective power and inclusivity of our community for our members.
Building community
Led by passion, we bring a people-first perspective to the tech sector, empowering our members to develop the skills to drive the sustainability, growth and success of their organizations. Today we are a credible source of industry insights – from our Tech Salary Survey to the Diversity in Tech Dashboard – offering our members data and information they need to make timely, informed business decisions. As a community we have created a unique learning network for People and Culture professionals in Canada's tech sector.
"Building community is about building strong, positive connections…it's building a sense of belonging and purpose that really benefits everyone." Stephanie Hollingshead, CEO, TAP Network, in response to BC Business, Women of the Year 2021 – Community Builder Award.
We are a proud voice of People and Culture professionals working in Canada's tech sector, trusted to accurately represent the challenges, success and future needs of our industry.
Excited for the future
Our community is becoming a national one, and that's exciting for us. Many members have been looking to us for insights, connections and resources for multiple provinces as our sector shifts to a more distributed, remote operations model.
With expanding support and reach across Canada, what has this community meant to you over the years and most recently? We'd love to hear from you in the comments or send us your thoughts to info@tapnetwork.ca.