Coach-Like Leadership: How you and your company can benefit.
Coach-Like Leadership: How you and your company can benefit.
May 26, 2022
- Guest post by Lisa Martin, PCC, Founder, Coach-Like Leader
An organization's ability to reach and surpass its goals is shaped by one thing: its leaders.
While that may sound like a dramatic statement, the most brilliant strategy or well-designed product in the world is useless without an engaged, informed, and dedicated team to transform it into reality.
Graceful, effective coaching in the workplace is the path to realizing incredible human potential.
I've learned firsthand that it all boils down to agile leadership coaching—the ability to inspire, connect with, and bring out the best in employees.
This is coach-like leadership, and it has transformative potential for your people, your operations, and your revenues.
Employees with coach-like leaders are engaged and productive.
Organizations see a 51% improvement in team effectiveness
Employees experience a 70% improvement in work performance
There is a 23% increase in employee engagement across the board
Organizations with engaged employees experience 59% less turnover
Communication in the organization improves by 72%
* Personnel Management Association, ICF, MetrixGlobal, Gallup
I truly believe that over the next 5 years, organizations that invest in providing coaching skills for their people will be the ones that come out on top.
Research shows that most employees would prefer much more coaching from their leaders than they currently receive. Simply put, people want to be heard and they want to be coached at work.
Quick coaching tip: Lead with listening. Aim to speak only 20% of the time. Instead, actively listen with curiosity. Think about the person you're speaking with, not you, and shine the conversation spotlight on that person.
If you want to see first-hand the results coaching can have on individuals, teams, and cultures, you're in luck.
I'm hosting a live webinar, 4 Ways to Scale Coach-Like Leadership, on June 2nd at 11 AM Pacific. I'll be joined by my client, friend, and special guest, Kristy-Lynn Lechner. This webinar will be completely free to attend.
Kristy-Lynn is the Director of HR at Teekay, an organization I've worked with closely over the past 3 years to boost business results through teaching their leaders how to be more coach-like.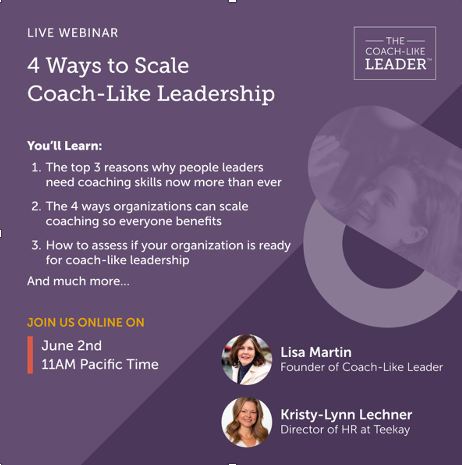 In this Webinar, you'll learn:
The top 3 reasons why people leaders need coaching skills now more than ever.
How coach-like leadership can mitigate the impact of the current performance crisis, unprecedented talent resignation and old-school management styles.
The 4 ways organizations can scale coaching so everyone benefits.
Why coach-like cultures have big payoffs.
How to assess if your organization is ready for coach-like leadership.
If this has piqued your interest and you want to learn more, please register by clicking HERE.
About the author: Lisa Martin is the founder of Coach-Like Leader. Her coaching, training, and consulting solutions help organizations cultivate strong leaders and cultures. She's managed teams, been the youngest and only female partner in a national firm, owned her own companies, and written 5 books on leadership. Clients like HSBC, TELUS, Sierra Systems have described her as a 'phenomenal facilitator,' 'straight-shooting guide' and 'no-nonsense coach.' She lives by the water in Vancouver, Canada.